Social Media Fail: #TheArtOfCheese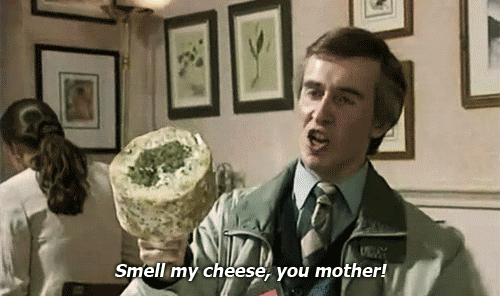 I've often sat in front a blank screen, fingers poised above the keyboard, unsure of what to write. I've also spent time (longer than I'd care to admit) trimming down a few lines of text to fit within Twitter's pesky character limit, reframing and rewording as I go.
But an article in Business Insider published last week told the story of a tweet that took far longer to write than any of mine. What did it say then, what 140 characters could possibly have taken so long compose?
Here's the tweet in question:
Sharing a Camembert with friends? (How generous!) Get the best flavor by serving at room temperature. #artofcheesepic.twitter.com/R6iWPeKv1z

— President Cheese (@presidentcheese) April 30, 2014
Pretty underwhelming, right? Well that's what Twitter thought too – when the piece first ran the #artofcheese masterpiece had garnered all of two favourites, probably some way shy of what Huge, the agency responsible, were aiming for!
"Social media is definitely perceived like you're just dicking around on the internet all day, and I do a fair amount of that," said Andrew Cunningham, a Huge community lead. "But the thing is, it just never ends. It's a 24-hour-a-day job whether I like it or not."
Social media for business might seem relatively simple but the reality is quite different, one misjudged post on a social channel can have dramatic consequences for a company.
With organisations the size of Président, a lot of work goes into planning, strategy and conceptualising a social campaign before even a single tweet is drafted. Each post needs to have a purpose (individually and as part of the wider campaign), and a clear set of goals laid out by which to measure its success.
The article has certainly put the spotlight on those who design and implement social strategies on behalf of brands and although 45 days seems ludicrous it's not uncommon for approval processes to drag on far longer than agencies would like. By the time the tweet has been signed off by the company, it's marketing team and lawyers many days can pass.
Some businesses – granted smaller than the French dairy product producers – hand their social media responsibilities to junior staff, sometimes even interns! No business would use someone so junior as a spokesperson for an interview, so why trust them to be the voice of the brand?
Social media channels convey that voice and therefore all social communications need to show continuity, use that same voice and embody that brand's values – mistakes can be costly so it's far better to be cautious than careless – certainly not something to leave to a trainee.
We may laugh and joke, and those of us in the same game may criticise and distance ourselves but in reality we've all been in similar situations. We've all sat through meeting after meeting in order to get final approval, it may not have been as high profile or taken 45 days, but it damn well felt like it at the time!
So by all means smirk, snigger and grin at the 45 day tweet but understand the reasons behind it, take into account a bit of artistic license from the chaps at BI, and just look at the coverage generated and links gained through this calamitous affair – not bad, eh? If you really want a laugh however, check out the responses to the less than flattering story below.
"We Got A Look Inside The Process Behind Writing Inaccurate Clickbait"

— Huge (@hugeinc) May 27, 2014
While our Camembert may take 45 days to age, this tweet certainly didn't!

— President Cheese (@presidentcheese) May 27, 2014